Ultrasonic Welder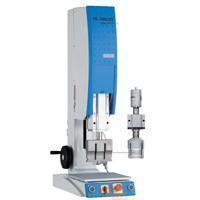 Ultrasonic Welder
Product ID: HS DIALOG digital control (Herrmann Plastic Welding)
Our company sell Herrmann plastic welding machine in Taiwan. This ultrasonic welder is widely used for joining thermoplastic materials by joining or reforming materials through the use of heat generated from high-frequency sound waves and pressure. Compared to traditional methods, there are many advantages on using ultrasonic welding machine. Firstly, welding can operate at lower temperatures so as to save the energy cost for customers.

Moreover, it's faster and safer. For one thing, the procedure happens in seconds; therefore, it is more efficient. For another, this welder uses no flammable fuels and open flames. So, it is safer. Finally, the bonding used by this method is strong and durable. For our vertical plastic type, customers can reduce bonding time at lower temperatures. As a professional manufacturer of ultrasonic welding system, our machinery can definitely fulfill your needs.

We also offer customized ultrasonic system. Whether you want it for welding plastic, metal, textile, or other materials, you are welcome to discuss with us anytime.
Specifications:
Machine column, base, and actuator made of torsion-resistant special alloy.
Actuator with precision roller guides.
Indexed quick-change system for tool and sonotrode exchange reducing set up time and defective welds.
Ball pivot-supported level plate for fast set-up of the fixture allows for a parallel plane between the plastic part and the sonotrode.
See more complete detail
HS Dialog digital control
2000
4000
5000
Frequency
20KHZ
20KHZ
20KHZ
Ultrasonic power
2,000W
4,000W
5,000W
Supply voltage
50/60HZ
230V
400V
400V
Control voltage
24V
24V
24V
Height adjustment
450mm
450mm
450mm
Sonotrode stroke
100mm
100mm
100mm
Working area
300 x 300mm
300 x 300mm
300 x 300mm
Machine dimension
370x1,390x650mm
370x1,390x650mm
370x1,390x650mm
Throat depth
245mm
245mm
245mm
Paint color
RA5015/7035
RA5015/7035
RA5015/7035
Weight
125kgs
125kgs
125kgs
Order Information:
Minimum Order: Negotiable
FOB: TAIWAN