C Type Mask Making Machine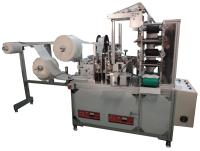 C Type Mask Making Machine
Product ID: SM-31B
A special design to produce dust masks with filter media in automation. It is easy to change different welding rollers or cutting roller to make different knds of dust mask.Can increase nose clip feeding device.But the eraloop and air valve should be finished by other working process.
SM-31B

Specifications:
1 - All aluminum alloy made construction.
2 - Photoelectric sensors for detection.
3 - Tension control.
4 - Ultrasonic welding.
5 - P.L.C control.
Features:
See more complete detail
| Model | SM-31B |
| --- | --- |
| Machine Size | 3,500 x 1,300 x 1,600 mm |
| Line source | 220V,1 or 3 phase |
| Capacity | 25~40pcs/min. |
| Power consumption | 4.4~12KW |
Order Information:
Minimum Order: Negotiable
FOB: TAIWAN